Australian Paving Centre is the leading supplier of quality paving and retaining wall products in South Australia for over 30 years.
Australian Paving Centre Middleton is locally owned and operated since 2012, we take great pride in being the go-to destination for all your paving and retaining wall needs in the south. With our commitment to quality, exceptional service, and a wide range of products, we have built a reputation as the leading supplier in the region.
Step into our vibrant showroom and experience our great range of products. As the proud owners of the largest paving and retaining display in the south, we boast an extensive selection that will leave you inspired and spoilt for choice. From elegant and timeless designs to contemporary and innovative solutions, we have something to suit every style and taste.
We understand that convenience is key, which is why we've recently expanded our facilities to include a new, spacious drive-thru yard. This means that picking up your paving supplies has never been easier. No more hassle of finding a parking spot or manoeuvring through tight spaces. Simply drive in, load up, and be on your way, saving you valuable time and effort.
At Australian Paving Centre Middleton, we value your time, and that's why we always keep a comprehensive stock on-hand. We believe in putting our customers first, which is why you can rely on us to have your desired products readily available for immediate pickup. Your project doesn't have to wait; you can get started right away.
Our knowledgeable staff is the backbone of our business. With years of experience and exceptional product knowledge, they are ready to assist you every step of the way. Whether you're a seasoned landscaper or a DIY enthusiast, our team is here to provide expert advice, guide you through our vast selection, and help you make informed decisions that will transform your outdoor spaces into stunning havens.
And speaking of inspiration, we've recently updated our outdoor display to a 24/7 showcase of the latest trends and designs. Take a leisurely stroll through our beautifully crafted displays, even outside regular business hours. Let your imagination run wild as you envision the endless possibilities and envision your dream outdoor oasis taking shape.
At Australian Paving Centre Middleton, we are more than just a paving and retaining wall supply company. We are your trusted partner, dedicated to bringing your vision to life. With our exceptional service, unmatched expertise, and a commitment to customer satisfaction, we are here to make your journey a seamless and enjoyable one.
Visit us today and discover why we are the preferred choice for all your paving and retaining wall needs. Let us be part of your outdoor transformation and create spaces that are both functional and breathtakingly beautiful. Together, let's pave the way to your perfect outdoor escape.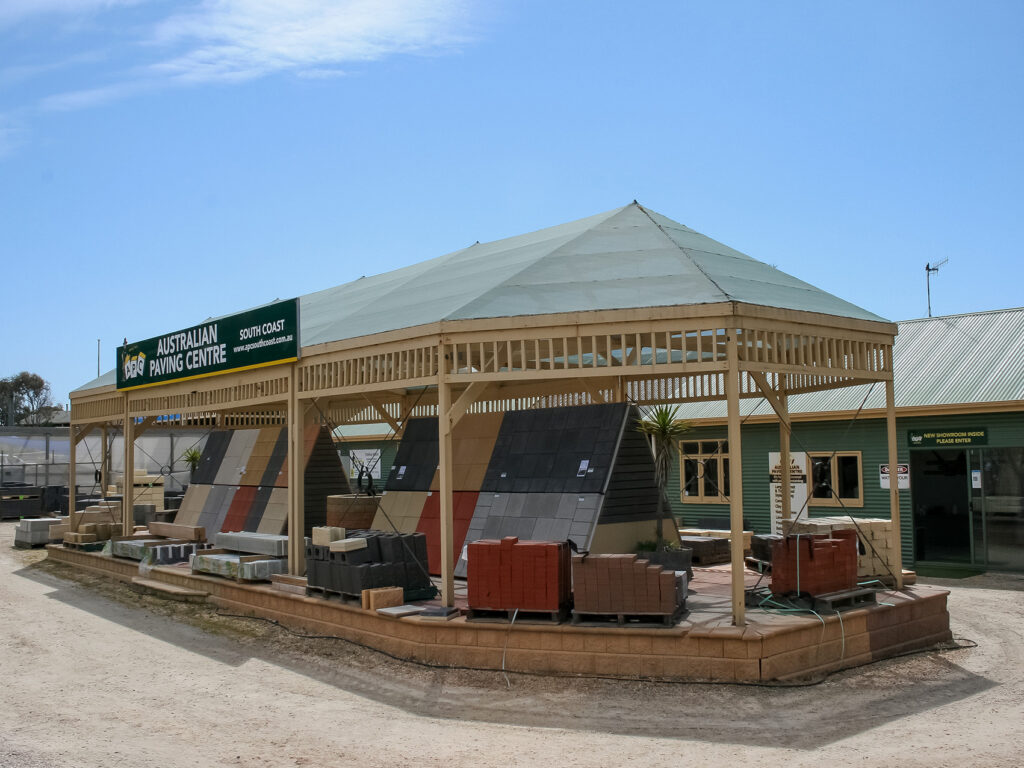 What Our Customers Say
Great place for pavers, blocking, turf! Good service and competitive prices. You need to check your products clients wishing to get some paving done so you know the look and feel of it as you don't get this perspective from a brochure!
Take a trip down here with your contractor and good luck with your project
The staff member at the APC Middleton store was extremely helpful and knowledge in helping us to purchase Travertine pavers for our entertainment area. I would highly recommend visiting this store if you are in the market for pavers.
The outstanding service made the selection process seamless. Would highly recommend to anyone.
Great selection of products on display, ranging from Travertine to Stoneware. Our options were endless, a complete one-stop shop. The staff member was very knowledgeable and helped with all my queries! Would definitely shop here again.
Visit us at APC to pick up a free sample!
Or, send us a product enquiry or request a quote online